Lundy Reunion 2002 & 2003

Lundy Island - West Coast. Courtesy Landmark Trust
This is a must to add to your calendar - and do it now as everything on the island books up very quickly. We have rented several Landmark Trust properties on the island for late October 2002 and 2003. We are making these available for past EWP clients to come to a reunion meet. Slide shows, meals at the Marisco Tavern, climbing and walking on this magnificent island. This will be an excellent opportunity to meet old friends or make new ones amongst like-minded people. We can almost guarantee that if you go to Lundy once - you will want to go again, and again! details
Lundy Accommodation: (costs per person)
19-26 October 2002
The Barn £60 8 days
26-31 October 2002
Bramble Villa £75 6 days
In period 19-31 October
Camping £6 per night

25 Oct. - 1 Nov. 2003
Old House South £95 8 days
Government House £95 8 days
Old Light Trinity £95 8 days
Old Light Venture £95 8 days
In period 25 Oct.-1 Nov.
Camping £6 per night

A 50% deposit is required to make a reservation.
Contact us for availability and details.

Elbrus

With the Chechen conflict settling down Elbrus is now as popular as ever it has been. We had over 80 visitors to Elbrus during the summer and as usual our success rate was about 90%. If you are planning to go please bear in mind that the 9 day trip is only suited to those who know that they are able to acclimatise well. The Priut hut which was burnt down several years ago is being rebuilt and it now again possible to tackle the final ascent of Elbrus from the relative comfort of a mountain hut. details
Tuva: Sayan Mountains & Mongun Taiga

This is a new and exciting trekking area. We have now run several exploratory trips to the region taking in a wide range of treks and are confident that the 2 on offer this year will prove a great success. The Sayan are a range of beautiful unspoilt mountains just north of Mongolia with wide valleys , clear fast flowing mountain rivers, lofty snowy summits and grassy meadows, the first of the treks finishes with an ascent of a fine glaciated summit that can be reached by average walkers wearing crampons. The summit provides superb panoramas over the vast Siberian landscape to the north and Mongolia to the south. We finish in Kyzyl, the capital of the Tuvan Republic.
Tuvans have a totally different culture, language, traditions and ethnic background to the rest of Russian. This trek gives an opportunity to meet the people, many of whom are still cattle breeding nomads. If you are lucky to meet local shamans and let them dance and sing for you they will help you to get rid of all bad spirits.
In 2002 we will offer the basic trek as well one combined with the ascent of Mongun Taiga the highest summit in Eastern Siberia. Be prepared for a long walk!! details
Pamir Virgin Summits

As the Afghan war appears to be drawing to an end we now hope for peace in this war torn and mis- ruled country. Stability here would help to stabilise the fledgling Central Asian countries - in particular Tadjikistan which has often been infiltrated from the south by extremists trying to undermine the governments of Tadjikistan and Uzbekistan. Our virgin summits groups have been searched many times at various check points on our way into and out of our climbing areas in the southern Pamirs. A Russian commander at one checkpoint told us excitedly about his success the previous day when a man was caught going towards Afghanistan carrying a 50 kg bag of dollars. The drug business was doing well under the Taliban.

In 2001 our expedition took us to an area on the borders of Kyrghizstan, Tadjikistan and China where we made a first ascent on Eastern Sunrise - a beautiful mountain of 6346m on the triple border. Several other summits were also climbed and named, the most beautiful of these being Tarka Peak (5360m). report

For 2002 we have chosen a range of mountains, several about 6000m high, lying on the Kyrghiz / Chinese border. Until now the area has been closed to mountaineers - our expedition here will be the first serious mountaineering visit to the glacier system. A view of the upper reaches of the glacier from Eastern Sunrise has wetted all our appetites for this trip. details

Fann Mountains
Hopefully trips will be running here as normal in 2003. details

Romania: Fagaras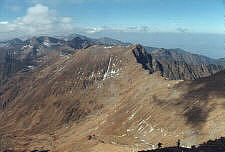 Combining culture and fine ridge walking the main Fagaras Ridge is becoming more popular and is a highly spoken of trip. details

Bulgaria
As peace returns to the Balkans so the trek in the Pirin and Rila is well worthy of consideration - reports are always excellent. details

Rwenzori

The mystical Mountains of the Moon offer great attractions to climbers, walkers and naturalists. The Stanley Plateau is the largest glaciated area in Africa and beside it lies Africa's third highest summit, Point Margherita (5109m). There are several endemic species of birds including the brilliant Rwenzori turaco, also monkeys, red forest duiker, hyrax and leopard.

For several years the area has been closed to tourists but now it is again secure and open. We will be running trips here on a regular basis as in the past. details

Crater Highlands and Lengai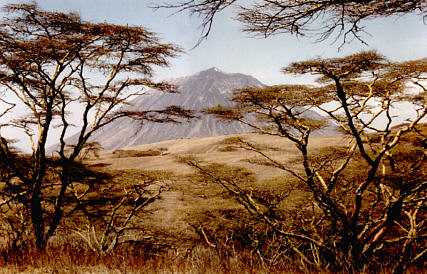 This has been a connoisseur's walk through part of the Ngorongoro game park and remote Maasai country to reach the holy mountain of the Maasai, the active volcano Lengai, overlooking Lake Natron.

Our fully-supported walking trips take in the best features the area has to offer. Olmoti Crater with its magnificent waterfall, Embagai Crater and crater lake, and the cool, green gorge leading to the source of the Ngare Sero river. For real heat and a view of flamingo it is possible to visit Lake Natron or for the more energetic the ascent of Lengai itself is a tough and dramatic finish to the trip. details

Kilimanjaro
Has been as popular as ever! The tourist infrastructure in Tanzania is improving year by year and despite the heavy usage the mountain is receiving there are signs of improvement as regards environmental issues. Wood burning has been stopped, new toilets have been put up and rubbish is being cleared away fairly efficiently. Those who have descended the Mweka Route will be glad to hear that an alternative descent route has now been created to allow the Mweka to recover. details

Personal Service
As a small, specialist company we can personalise all your arrangements. So please do not hesitate to give us a tele- phone call or email us at ewp@ewpnet.com. Our office is manned on most evenings to deal with overseas customers so we are happy to discuss queries in the evening by prior arrangement.