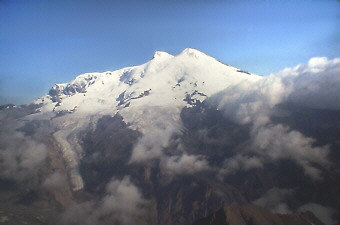 Elbrus may be attempted by any strong mountain walker who is familiar with the use of an ice axe and crampons. Nevertheless it is important to remember that it is a mountain of almost Himalayan proportions and good acclimatisation is essential. In bad weather conditions may become Arctic.
Ascend Mount Elbrus summit with EWP . . .


With 22 years of experience in the Elbrus area we have one of the best teams of guides, porters and medical support available.
We will help you at all stages to arrange a memorable trip!
We operate an8-day and a 10-day programme from the South or a 9-day from the North.

We will also be running a 13-day programme to include other beautiful forested valleys, alpine meadows, glaciated mountain passes and some of the easiest summits in the Caucasus Range.

Mount Elbrus Ascent
Most first time visitors to Caucasus are keen to ascend Mount Elbrus, 5642m, Europe's highest mountain. Elbrus lies just north of the main Caucasus Chain - a range almost 1000 miles long with a heavily glaciated central section containing several summits rising well above 5000m. Many of the remote side valleys are seldom visited except in summer by shepherds. Pine forests, alpine meadows, mineral springs, glacial rivers and periods of settled weather complete the picture.
Elbrus on Skiis
For the good mountain skier we have a 9 day ski ascent programme. This is best done in May-July period. At other times the ascent may be too icy.
Ski-Touring
Unlike the Alps the snow in the Caucasus is virtually guaranteed, there is good powder to be found late into the season and the season is long. We use the New Jailyk Hotel, a high mountain lodge located in the high and remote upper sections of the Adyl-Su valley. Also our Baksan Valley base as described above is also used to access the Baksan ski lift and cable car system. Our trips end with an opportunity to ascend Mount Elbrus.
details
Technical Climbing
There are thousands of other elegant summits to be climbed and valleys to be explored. Those coming with more time or wishing to climb some of the numerous other, elegant summits should consider organising the trip as a private group. Our guides are based permanently in the Baksan Valley throughout the summer months.
details by Email