This magnificent and remote mountain on the borders of Uganda and Kenya offers superb high altitude walking. The 30 km. caldera rim is composed of several rugged mountains over 4000m high. An ascent by the Sasa Route from the west combined with a descent via the Piswa Route to thenorth offers one of the best long trips. Access to the Caldera from the Kenyan side is more difficult for organised groups but the famous elephant-carved Kitum and other caves are an interesting feature in the game rich National Park found on this side of the mountain. There is limited time for acclimatisation but we do not sleep too high. a good degree of fitness is required as the terrain is rough and some days are long.
Programme
Arrive and drive to hotel in Entebbe OR (Jinja depending on arrival time, B&B basis).
Drive to Mbale then on to Bumasole. From here we trek to Sasa river camp (3-6 hrs).
Hike to Mude or Jackson summit cave on the edge of the crater lake.(4-9 hrs)
Climb to Waggagai point and back to Mude (4-7 hrs).
Descend to Kapkwai overnight at Kajere camp ( 4-6 hrs).
Descend to Sipi falls camp (3-6 hrs).
Drive to Airport.
The programme is available as a private trip all the year round, contact us for more details.
Prices:
Included:
Transport,
Accommodation,
meals,
tents,
porters and guides
park entry fees.
Excluded:
luggage transfers and other transfers such as late arrivals / early departures
extra drinks
Elgon Tarn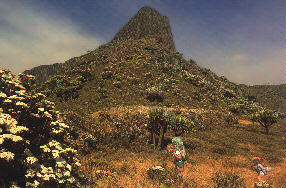 Elgon