General
Mount Kenya is located on the equator. Magnificent cliffs and glaciers protect the highest peaks of Nelion (5188m) and Batian (5199m). The third highest summit - Point Lenana, (4985m) - is also glaciated but accessible to walkers. Tarns and alpine meadows; exotic, equatorial, high-altitude vegetation; sunbirds, hyrax and soaring eagles make the walk around the peaks one of the most beautiful expeditions in the East African mountains. On account of the high altitudes it is wise not to rush to the summit areas and the very shortest trip to Lenana should allow for 3 nights on the mountain. To combine this ascent with a circumnavigation of the main peaks requires at least an extra day.
Walking Trips on Mt Kenya
Private Year Round Trips
We offer year round departures for any route combination and any length of time. We pick you up at the airport, organise your accommodation in Nairobi at a hotel. Our guide will meet you there and take you to Mount Kenya by private transport where we pick up our porters and a cook.
Accommodation on the mountain will be in roomy double skin, dome tents. We provide a mess tent in the event of bad weather. Porters are provided to carry all communal equipment and 10kg. of your equipment. More porters could be provided on request.
Trip Details
Prices are worked out on a sliding scale depending on the group size and the length of the stay. Check the route details on our detailed information pages and look at the route map. On the Chogoria Route it is best to use the Mount Kenya bandas for the first night. These are located not far from the Park Gate and provide accommodation in four person rooms, with clean linen and hot showers.
7 Day Scheduled Trek
This is available year round: see details and dates and prices.

Watch movie on YouTube
(press HQ for High Quality)

Mount Kenya - Part 1

Mount Kenya - Part 2

Lunch - an enclosed mess tent is used
for cold evenings or in bad weather
A 2 man mountain tent (these are actually very
roomy being designed as 3 man tents).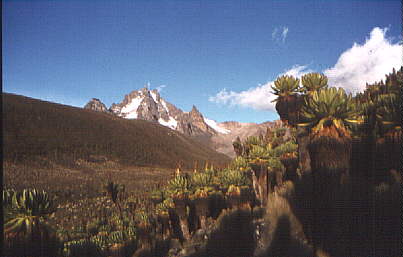 Mount Kenya from the Teleki Valley
Mount Kenya may be attempted by any strong mountain walker, however it is easy to gain height too quickly and altitude related illness or considerable discomfort is experienced by many who try to go up too fast. Medical Aspects of high altitude mountaineering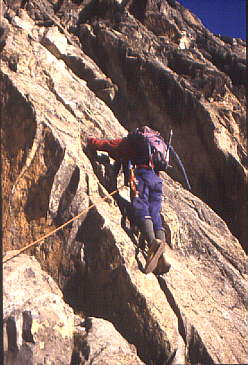 On the South East Face "Normal Route"
Mount Kenya - Climbing Information
13 September 1989 - the first ascent.