Kronotski Reserve - Kamchatka
Kronotski Reserve - Kamchatka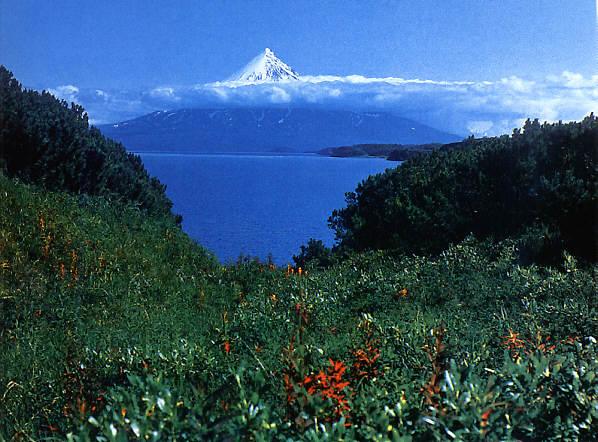 The Kronotski Nature Reserve holds unparalleled spectacles for even the most experienced travellers. There are warm waterfalls flowing down from basalt rocks, groves of sea plants and noisy bird colonies on the Pacific Coast, narrow paths with walls of giant grasses and flowers, magnificent volcanoes with steaming tops, deep river valleys and spectacular geysers.
The Reserve has particularly become famous for a few miracles of nature such as the Uzon Crater, Geysers Valley, and several volcanoes such as Maly (small) Semyachek Volcano and Karymski Volcano.
The Uzon Crater is set in a barren lanscape of volcanic ashes and snowfields, it is a 10 km. diameter hollow of dramatic contrast to its surroundings. Rich in a wide variety of plant and animal life, hot springs streams lakes and rivers it packs all that Kamchatka is famous for into just a very small making it the Ngorongoro Crater of Kamchatka.
Geyser Valley is one of a very few places on earth where numerous geysers are found in a small area. Geysers are relatively rare, here many of them rival the world's best. See also Geyser Valley
---
Home
Asia
Africa
Europe
Maps
---
ALW 2/9/2014