Mount Elbrus Picture, Caucasus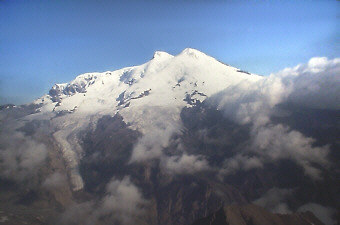 Mount Elbrus from the south as seen from the Cheget ski area. Elbrus may be attempted by any strong mountain walker who is familiar with the use of an ice axe and crampons. Nevertheless it is important to remember that it is a mountain of almost Himalayan proportions and good acclimatisation is essential. In bad weather conditions may become Arctic.
Our 15 day trip involves trekking and moutaineering amongst the magnificent lower peaks before the ascent. This provides plenty of time to gain acclimatisation and fitness.
---
Home
Booking
Prices
Asia
Caucasus
Africa
Europe
Maps
General
Pictures
Email
Turkey
---
ALW 16/6/05