Klyuchevskaya Sopka (4688 meters, 56.0N, 160.5E) is the highest volcano on Kamchatka Peninsula and also the highest active volcano in Eurasia. It is situated on the right bank of Kamchatka river, 380 km to the north-east of Petropavlovsk-Kamchatski. During the 19-20th centuries the volcano erupted 50 times. Peaks of activity were noted in 1944, 1955, 1978-1980, 1987. This cone-shaped mountain is also a rare and important "scientific laboratory", where volcanologists study different processes taking place inside of the Earth. In 1935 the Russian Academy of Sciences founded a special volcano research centre at the foot of Kliuchevskaya Sopka Volcano.The northern group of volcanoes, where this scientific centre is situated, forms an active part of the Kuril & Kamchatka volcanic belt. Apart form Klyuchevskaya Sopka, this belt comprises another 11 volcanoes. They are: Blizhnyaya Ploskaya (Nearby Flat)- 4030m, Dalnaya Ploskaya (Distant Flat) -3930m, Bolshaya (Big) Zimina - 3081m, Malaya (Small) Zimina - 2284m, Bolshaya Udina - 2933m, Malaya Udina - 1974m, Srednaya (Middle)- 3020m, Ploskii (Flat) Tolbachik - 3085m, Ostry (Sharp) Tolbachik - 3682m.
Klyuchevskaya Sopka attracts climbers from all over the world due to its magnificent conical shape, volcanic activity and challenging slopes. The route to the top is classified as 2A (french PD or UIAA I/II). The ascent takes about 8-9 hours. It is essential to be well-acclimatised, familiar with the use of crampons and ice axes and in good physical shape.
The top of the mountain is covered with snow all year round. The summit contains a a round crater that always emits smoke and vapours - a sure reminder of the activity beneath the crust. Fresh ash falls on the south side of the caldera and can be seen as a dirty smudge on fresh snow. There are about 10 minor glaciers, and also the rather large Ermann glacier that stretches down the northern slope with a total surface area of about 15 square kms. On the eastern side of Klyuchevskaya Sopka there is a cave by one of the small glaciers. The total length of all explored passages is about 60 meters, the main one is 2x2 meters large and 35 meters long, and following the line of the uphill slope. The entrance to the cave is located at the height of about 3200 meters.
Climate
A more extreme climate than the U.K. with snows and cold clear weather from November through to April. The summers can be surprisingly warm - many, warm days alternating with damp foggy conditions which drift in from the Pacific. As the winter snows are slow to melt, July, August and September are the best times for trekking although ski-touring is perfect in spring time. Late summer and autumn bring the magnificent reds and yellows to the landscape and this is the time the Kamchatkan bears are berry-picking and fishing for the Pacific salmon which ascend the rivers in vast numbers.
Health Matters and Documents
A visa is required for entry into Russia. This has to be applied for well in advance since the normal turn around time to you for obtaining it takes approximately 4 weeks. It can be obtained more quickly but this is often expensive. If you are likely to need your passport 6 weeks prior to departure please let us know to discuss alternative arrangements.
There are no compulsory vaccinations required for entry into the area but please consult your doctor regarding travel to Kamchatka. In particular mention encephalitis from tick bites. You will need a good insect repellent against mosquitoes for their nuisance value although they are not malaria carrying .
Grade
Some long days and some steep ascents to the passes and crater rims. Our route follows trails but they are not waymarked nor well trodden for the most part. The ascent of Klyuchevskaya Sopka requires the competent use of ice axe and crampons and good acclimatisation.
Weather, clothes, equipment
The weather is not extreme during the summer months, day temperatures in the mountains are approx. +15°C. Warm clothes are required for evening and nights. Full, lightweight, waterproofs are required as some rain should be expected. Waterproof, strong walking boots with good ankle support are essential but you may find sandals are useful when crossing streams. On the final ascent the weather could become almost Arctic with stron winds and snowfall - warm and windproof clothing could be essential on this day.
Walking poles can be very useful especially for river crossings and boulder fields and could replace an ice axe on the ascent.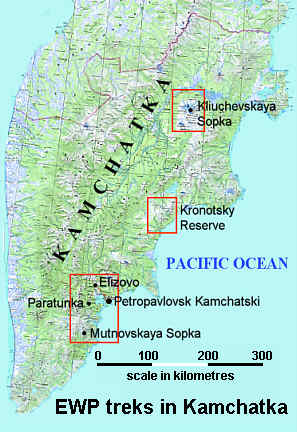 Kamchatka
Grade D
This is a helicopter-supported 16 days trip ex-Petropavlovsk
, it is a private trip available at any time from mid-July till end of August. Prices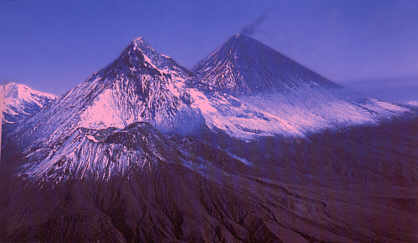 Klyuchevskaya Sopka, Kamien in foreground
Itinerary
Day 1. Arrival in Petropavlovsk. Transfer to a hotel. Welcome dinner in a city restaurant. Meet your guides and prepare for your trip.
Day 2. Travel by 6WD bus to Avachinsky Volcano plateau. Make camp. Short day hikes. Overnight in tents.
Day 3. Make an acclimatization ascent/descent of active Avachinsky Volcano (2754 meters). Enjoy spectacular views of Koryaksky Volcano and the Pacific Ocean. Return to Petropavlovsk.
Day 4. Drive to the old Even settlement at Esso (the Evens are one of the native tribes of Kamchatka). Stops for food and to view the spectacular landscape. In Esso you will visit a museum of native culture. You will also have a chance to try the Banya (a traditional Russian sauna). Overnight in private apartments.
Day 5. Helicopter MI-8 flight to Bogdanovich Glacier which is located between Krestovsky, Ushkovsky, Kamen and Kluchevskoy Volcanoes. Altitude 2800 meters.
Day 6. Ascent and descent of Krestovsky Volcano (4108m). Return to base camp.
Day 7. Reserve day in case of bad weather.
Day 8. Trek up to the pass (3200m).
Day 9. Ascent and descent of active Kluchevskoy volcano(4750m), the highest point of Kamchatka and the highest active volcano in Eurasia.
Day 10. Reserve day in case of bad weather.
Day 11. Reserve day in case of bad weather.
Day 12. Trek down along Bogdanovich glacier to Ushkovsky Volcano.
Days 13-14. Trek down to Kopyto Mt. (12km per day).
Day 15. Return to Petropavlovsk. Hotel in Paratunka resort. Bath in a pool fed by thermal hot water.
Day 16. City tour. Shop for souvenirs (caviar, smoked salmon, king crab etc.). Depart Kamchatka.
Included in the cost
All food, transport including helicopter, accommodation, guides, cook. Permits and park entry fees, (tents, food, but not your personal effects), visa support, sightseeing as per the programme, satellite phone. Tour of Petropavlovsk.
Not included in the cost
Meals, excursions or other services in Moscow, personal expenses such as drinks, tips, visa and insurance. Porter support if required.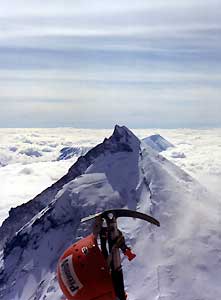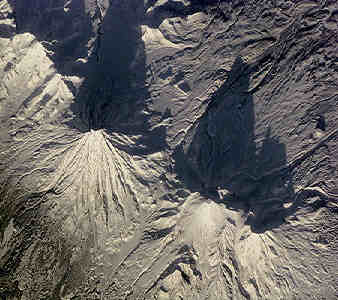 satellite image of Klyuchevskaya Sopka