The Kronotsky Nature Reserve holds unparalleled spectacles for even the most experienced travellers. There are warm waterfalls flowing down from basalt rocks, groves of sea plants and noisy bird colonies on the Pacific Coast, narrow paths with walls of giant grasses and flowers, magnificent volcanoes with steaming tops, deep river valleys and spectacular geysers.
There are many different species of wild animal to be seen, armed experienced rangers accompany groups, their knowledge of the habits and favorite haunts of the various animals add greatly to the trekking and make even bear watching safe. The Kamchatka Bear is essentially a peaceful animal and not dangerous for travellers if they follow simple rules of safety. If they meet humans, Kamchatka bears prefer to escape and satisfy their curiosity from a distance. Sometimes it is possible to watch peaceful groups of bears grazing among tundra bushes. The main source of the bears nutrition are berries and salmon from the rich spawning grounds in the rivers.
Our trip includes trekking in the famous Uzon Caldera and a visit to the Geysers Valley, both are in the Kronotsky Reserve. The area is also considered by the local indigenous Itelmen people to be home to the spirits of their mighty Gods.
Considered to be of considerable strategic importance Kamchatka was closed to Russians and foreigners alike. The Uzon Caldera and Geysers Valley were explored by early European travellers but much serious scientific exploration and research had to wait till late in the 20th century. Mass tourism in Kronotsky reserve is still prohibited thus saving and preserving the area leaving it almost untouched by economic activity.
Climate
A more extreme climate than the U.K. with snows and cold clear weather from November through to April. The summers can be surprisingly warm - many, warm days alternating with damp foggy conditions which drift in from the Pacific. As the winter snows are slow to melt, July, August and September are the best times for trekking although ski-touring is perfect in spring time. Late summer and autumn bring the magnificent reds and yellows to the landscape and this is the time the Kamchatkan bears are berry-picking and fishing for the Pacific salmon which ascend the rivers in vast numbers.
Health Matters and Documents
A visa is required for entry into Russia. This has to be applied for well in advance since the normal turn around time to you for obtaining it takes approximately 4 weeks. It can be obtained more quickly but this is often expensive. If you are likely to need your passport 6 weeks prior to departure please let us know to discuss alternative arrangements.
There are no compulsory vaccinations required for entry into the area but please consult your doctor regarding travel to Kamchatka. In particular mention encephalitis from tick bites. You will need a good insect repellent against mosquitoes for their nuisance value although they are not malaria carrying.
Grade
Some long days and some steep ascents to the passes and crater rims. Our route follows trails but they are not waymarked nor well trodden for the most part.
Weather, clothes, equipment
The weather is not extreme at this time of year, day temperatures in the mountains are approx. +20°C. Warm clothes are required for evening and nights. Full, lightweight, waterproofs required as some rain should be expected. Waterproof, strong walking boots with good ankle support are essential but you will also find sandals are very useful when crossing streams and swampy terrain. Light weight trousers are useful for the lush undergrowth through which the route goes.
Walking poles can be very useful especially for river crossings and boulder fields.
Nechayev Picture Gallery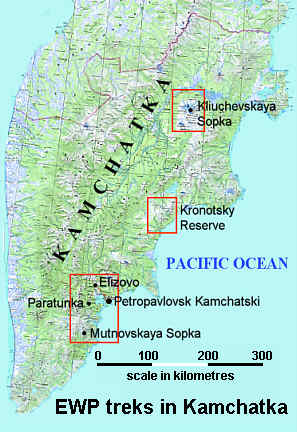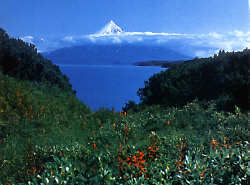 Kronotsky Volcano and Lake
Courtesy Andrey Nechayev
Kamchatka Grade B/C
This is a partly porter-supported trek, full support available on request. 16 days ex-Petropavlovsk
For dates and prices see Prices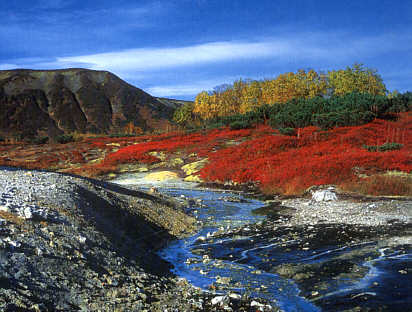 Uzon Crater - courtesy Andrey Nechayev

Itinerary
We can arrange flights for you to Petropavlovsk either from London or from Moscow. Please enquire for details.

Day 1. Arrive in Yelizovo airport, Petropavlosk-Kamchatski. Transfer to hotel. Petropavlovsk city tour.

Day 2. Helicopter MI-8 flight to Glukhoy Creek (Kronotsky National Park). Enjoy beautiful arial views of the volcanic landscape. Landing and camping in tents or cabins.
Day 3. Acclimatization trek to Uzon Valley (4 km). You will pass a picturesque plain where bears feed on wild berries. This valley is interesting for the crater-shaped-pits 25 - 150 meters in diameter and 25 - 40 meters deep, filled with hot and unusually colored thermal water. Returning to the camp.
Day 4. 12 km trek and excursion to the Valley of Geysers. See over-twenty geysers and numerous mud pots. Water-and-steam fountains bemuse with their beauty and strength. Overnight in tent camp on Sestrenka River bank.
Day 5. 12 trek to Glukhoy Creek (12 km). Cabins.
Days 6-7. Trek to Burlyaschy Volcano (12 km per day). This trip will lead you through richer vegetation with a large variety of birds and animals.
Days 8-9. Rest and excursions near Burlyaschy Volcano. The bottom of its crater is called 'The Steaming Valley' because of the multiple boiling puddles, small fountains and tiny mud volcanoes. Here you can see all the volcano types in miniature. This valley is also full of the sound of bubbling and splashing. Bathe in thermal hot springs.
Day 10. Trekking down to Semlyachik hot springs (20 km).
Day 11. Continue trekking down to Maly Semlyachik Volcano (6 km) and continue trek on Pacific Ocean coast (6 km) and abandoned settlement Jupanova.
Day 12. Day trekking excursion (16 km one way) to Pikhtovaya Roscha - a dark green spot shining against the light green background of birchwood. Return back to the camp. Overnight in tents.
Day 13. Full day of rest on a Pacific Ocean shore. Evening helicopter MI-8 flight over the Maliy Semlyachik Volcano crater to Karymsky Volcano. Landing near the active Karymsky Volcano, which is considered as the most active Kamchatka volcano due to the frequency and duration of its eruptions. Overnight in tent camp. Farewell party.
Day 14. Helicopter flight to Petropavlovsk-Kamchatsky. Hotel.
Day 15. Reserve day in case of bad weather and visit Paratunka resort to relax in thermal hot springs. Staying in the hotel.
Day 16. Departure.

Included in the cost
All food, transport including helicopter, accommodation, guides, cook, porters to carry some communal equipment on trek. ( You will need to carry your personal equipment plus 1 tent between two people and some food till the next resupply - max. 4kg.), Permits and park entry fees, visa support, sightseeing as per the programme, satellite phone.

Not included in the cost
Extra porter support - you can hire a porter for euro 35 per day to carry about 7kg of your luggage. Personal expenses such as drinks, tips, visa and insurance. Flights (unless using EWP flights ex UK).

More pictures and information:
Nechayev Picture Gallery
Uzon Caldera (photo)
Extensive collection of photos (russian text)