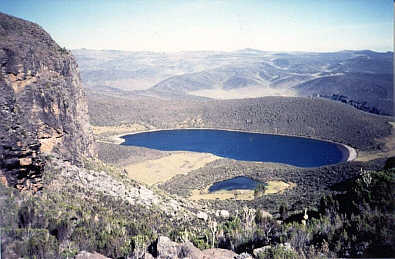 Equipment
For Mount Kenya bring a warm, windproof coat or anorak, warm trousers and light gloves, thermal underwear, sweaters, warm socks and lightweight inner socks, watertight and well broken in sturdy boots, hat with a brim, sunglasses, balaclava, walking stick, sleeping bag (three seasons), water bottles, high factor sun protection cream, a small first aid kit, a torch with extra batteries, lightweight rainproof gear and a backpack.
Climbing Equipment
Point Lenana: This is a non-technical summit. If snow and ice free, as it is quite often on either the north side or south side, it may be ascended wearing good walking shoes. However if there is any snow or ice on the ascent route a good, semi-rigid pair of walking boots may be necessary - this would be the recommended footwear. Under some conditions the snow and ice cover may be such that the ascent requires an ice axe (or walking poles) and even crampons and a rope for security on exposed sections.
Batian and Nelion: These, the highest summits of Mount Kenya, are generally done with a bivouac on the climb. Only very fast parties can avoid a bivouac. It may be advisable to carry some water in case snow or ice to melt are not found. It is useful to have 2 45m ropes for efficient abseiling. Best descent routes are down the SE Face from Nelion (well marked and good abseil points), from Batian it is best to descend the North Face Route, many abseil points available. Climbing equipment to be carried: a standard basic climbing rack (eg 10 assorted chocks and 10 quick draws plus four longer slings) should be ample for either the South East Face or North Face Routes. The rock is excellent phonolite - not unlike granite, with good friction and plenty of cracks and spikes.
On safari, wear casual dress, preferably light weight cotton and with subdued colours. Slacks or shorts may be worn by both men and ladies. In some areas, it can become chilly at night, so sweaters or cardigans should be included in your luggage.
Take plenty of film for your camera with you, as films can be both scarce and expensive in Kenya
Food
Picnic lunches are provided where appropriate, where possible soup and hot drinks are provided together with sandwiches, fruits and chocolate. At high altitudes your appetite may not be as good as lower down, for this reason we recommend that you take a very small quantity of snacks that you find particularly tasty - about 500 grams should be enough.
We are often asked about gratuities - these, of course, are always at your discretion. However, if you wish to tip your guide and porters, around $6 per person per day is the average contribution from group members. You may wish to discuss tips with the local guide first and then, at the end of the trip, say good-bye to the porters and guide and give out tips at this stage. If an EWP is present he will help advise about the procedure but should not be asked to organise it.