In 1849 Johann Ludwig Krapf, a missionary, was the first European to report the sighting of Mount Kenya. On hearing Krapf's report, many learned scholars of the Royal Geographical Society scorned at the concept of snows on the Equator. It was not till 1893 that an expedition mounted by the geologist Dr.J.W.Gregory reached the glaciers defending the main peaks. His detailed report of the expedition appeared in the Alpine Journal and fired the imagination of Halford Mackinder who was then studying geography at Oxford. Although no mountaineer he felt the ascent of Mount Kenya would establish him as an adventurer and explorer - and hence a real geographer.
He trained hard in the Alps and hired two Italian guides from Courmayeur: César Ollier and Joseph Brocherel. He reached Zanzibar in June 1899. Despite local tribal conflicts and hostility he reached the mountain, once there the two guides did an excellent job of cutting a way up through the forests to the moorland zone which he reached by mid-August. Several attempts on the summit failed and with dwindling food supplies the outcome of the expedition was in the balance. On the 13th of September at last they managed to find a way to avoid the main obstacle they had encountered (Mackinder's Gendarme). They traversed across the South East Ridge Nelion, below the Gendarme, onto the Diamond Glacier (named after the extremely hard ice). They precariously cut their way up the glacier to the Gate of the Mists, from there easy rocks led to Batian.
Most climbers now prefer to avoid the Diamond Glacier and climb the hard rocks beyond the Gendarme to gain Nelion. Here Ian Howell constructed a small bivvy hut from which it is easy to descend to the Gate of the Mists and hence gain Batian.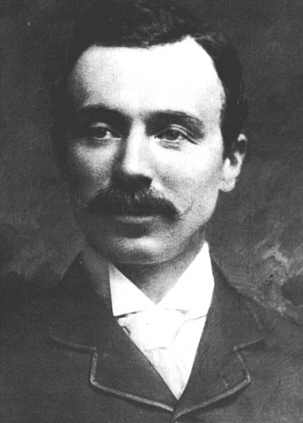 Halford Mackinder
We invite you to come to Mt Kenya and repeat their climb or any of the more recent magnificent routes with one of our guides. Contact us to discuss the possibilities.