The Kackar (Kaçkar) Mountains are composed of several ranges lying in the north-east of Turkey, just south of the Black Sea. The many summits between 3000 and 4000m and deep forested valleys cover a vast area some of which is inaccesible between November and April on account of the deep snow .
Bears, ibex, wolves, mountain goats, deer, Persian red-squirrels, wild pigs amongst other animals inhabit the forested slopes and numerous birds, many on their migration routes, may be seen. In fact the Kackar are one of the world's most biodiverse regions and the flowers from spring through to late summer are stunning. The northern slopes are heavily forested up to about 2000m and are affected by the humid air to the north; they are misty and rain and snowfall are quite high. The southern Kackar are drier but still receive more precipitation than other areas in Turkey. Maximum precipitation occurs between late April and mid-June.
Our 4 day trip ascends the highest summit, Mt Kackar 3937m, approaching it from the south. It provides a non-technical trek but there is a rocky section where you have to use your hands and some sections of boulders and scree to negotiate. Early in the year crampons may be useful. We run trips throughout the summer and our short trip, run weekly from our Olgunlar base provides the best value for money. It is fully mule supported with all food, tentage and sleeping mats provided and an English speaking guide. Early in the season crampons may be required - these are not provided, however a competent mountain walker with an ice axe
The trip could be used as an acclimatisation trip prior to an ascent of Mount Ararat.
Programme
Arrive in Olgunlar, night at pansiyon, en-suite accommodation, on half board basis.
After breakfast start from Olgunlar village, 2100m, to trek up to Dilberduzu base camp. Camp at Dilberduzu, 2850m. Ascent 800m, 4 hours. In the afternoon there will be time for an acclimatisation walk exploring the beautiful flower filled meadows around the Dilberduzu.
Breakfast will be at 5am. We walk up to Deniz Gölü Lake 3200m. where we have a snack and rest. We then continue to Kackar Summit 3937m, sections of the ascent are over scree slopes where ski sticks are useful for balance. Early in the summer snow could cover these making the ascent a bit easier. After snacks on the summit we descend to Dilberduzu camp. Here we have some hot drinks, soup and relax before going down to Olgunlar village. Night in a pensiyon. The ascent is approximately 1050m and takes about 5 hours. The total descent time to Olgunlar takes between 5 and 6 hours. Those preferring an easier day can walk up to Denizgölü and then continue on a bit further to the more remote Atsız Gölü lake. This variant reduces the trip grade to B.
Depart in the morning after breakfast.
The programme is available as a private trip throughout the summer, contact us for more details.

Included:
Two nights half board at pensiyon in Olgunlar
Mountain Guide
Cook and all meals on the trek.
Picnic Lunches.
Mule Support
Tents and mats
Tents are provided on a sharing basis, to have your own private tent there is a euro 10 surcharge.


Not Included:
Transfers to Olgunlar*
Personal Equipment
Alcoholic Drinks
* Olgunlar may be reached by public transport from Yusefeli from where there is an afternoon bus. Yusefeli is reached easily from Erzurum which in turn has excellent connections by rail and air with Istanbul and Ankara. The last bus from Erzurum leaves at 1pm. The journey takes about 4-5 hours by bus. To reach Olgunlar in the morning from Erzurum a very early start by private transport is necessary. We can arrange private transfers on request from Erzurum or other locations in and around the Kackar. An extra day or two may be added to the trip for shorter walks that will help with acclimatisation. A further alternative is to reach Olgunlar by crossing the range from north to south - our support staff can then meet you in Yukari Kavron.
MOUNT KAÇKAR ASCENT
Price per person for a 4 day trip to Mount Kaçkar - Olgunlar to Olgunlar (Euro). Trip Details
Group size
1
2
3
4
5
6
430
240
235
195
180
170
Extra days at Pansiyon (Euro per day)*
40
30
30
30
30
30
*This is basic Half Board price combined with route notes for two unguided possible acclimatisation walks.
Purchase detailed guidebook and map to the Kackar.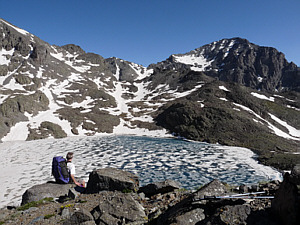 Summit from Deniz Golu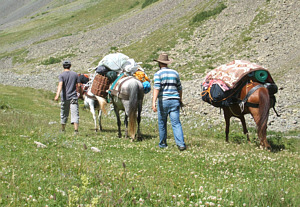 On the way to Dilberduzu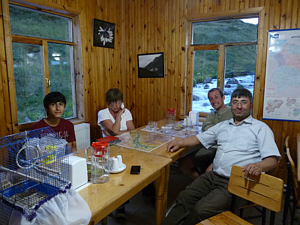 Relaxing in Pansiyon

Soup Time!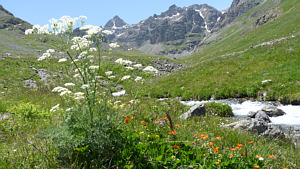 Walking In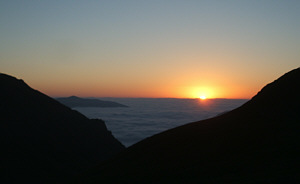 Early Start